ZSFG Primary Care Track: The Place
The Hospital

:

Zuckerberg San Francisco General Hospital and Trauma Center (ZSFG)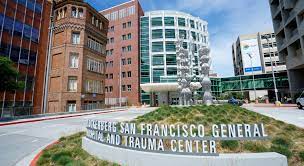 We are a community hospital dedicated to delivering high quality, humanistic, cost-effective and culturally competent health services to all residents of San Francisco. Located in the vibrant Mission District, ZSFG provided world-class care to a diverse and inclusive community of patients regardless of their socio-economic, financial, or immigration status.
Highlights of ZSFG:
The only level 1 trauma center in San Francisco

Comprehensive outpatient and inpatient services by award-winning UCSF faculty and residents. 

World-renowned for HIV/AIDS care and research

Rigorous research mission and home to 20 UCSF research centers

Extensive interpreter services

Culturally sensitive psychiatric and social services
The Clinic: Richard H. Fine People's Clinic (RFPC)
RFPC is a clinic devoted to the care of a diverse, medically and socially complex population of adults. Many of our patients grapple with homelessness (10% of our population), psychiatric disease, poor social support, low English proficiency (40% speak a primary language other than English), limited health literacy (less than 50% have adequate functional health literacy) history of substance use disorders (25%) and a history of domestic violence (45% of female patients). We practice medicine with an amazing team of nurse practitioners, nurses, MAs, social workers, diabetes nurse educators, pharmacists, and nutritionists. We serve all patients regardless of their immigration or insurance status. During the COVID epidemic we have accepted any patient in the city of San Francisco for acute medical needs who walk into clinic without an appointment. All interns participate in an enthusiastic friday clinic with preceptors devoted to teaching them the fundamentals of outpatient medicine. ​​​​​