ZSFG Primary Care Track: Our People - Residents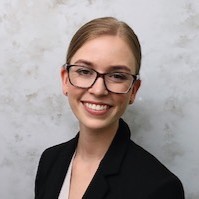 Chief Medical Resident
Chief Medical Resident
Brittany Abel, MD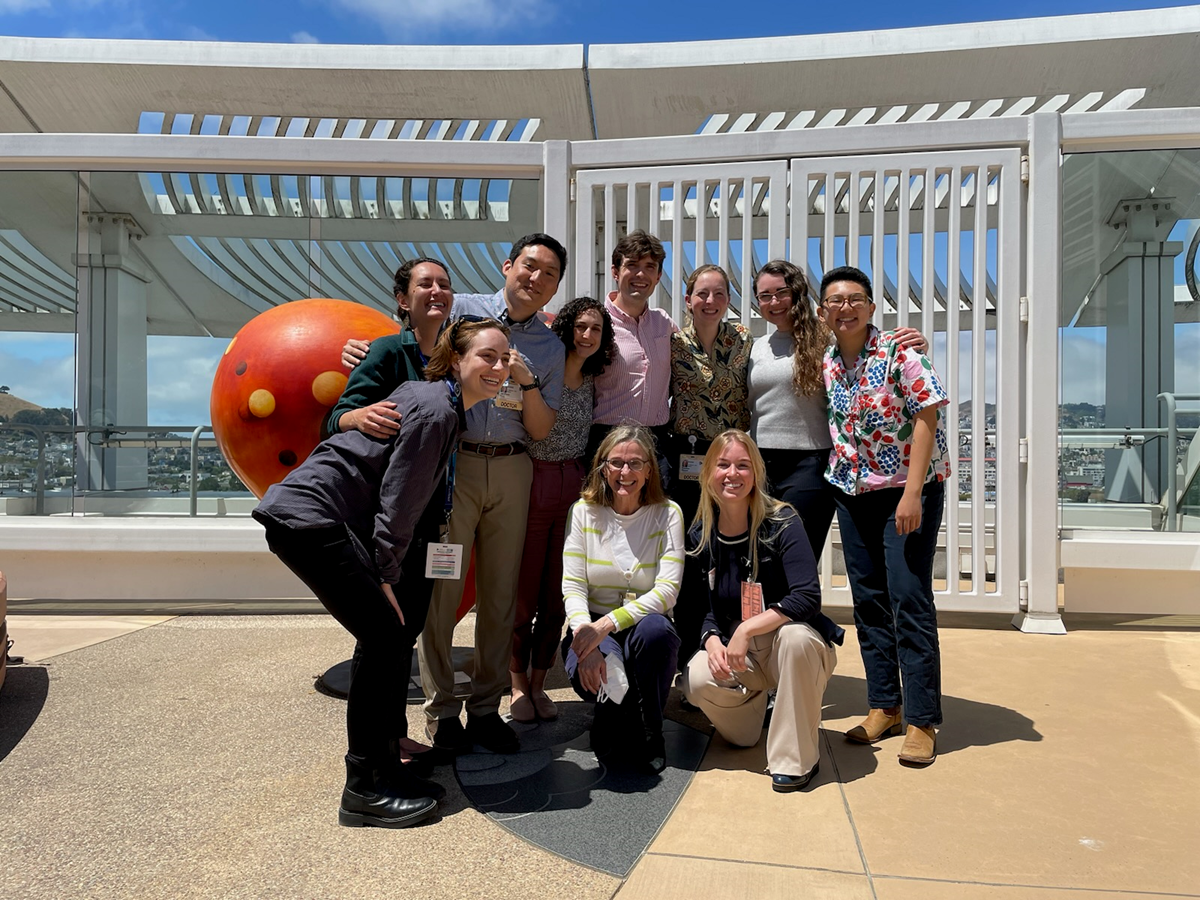 Interns
Paloma Orozco Scott (Icahn School of Medicine), Alison Aronstam (UCSF), Paul Yang (Wake Forrest), Joanna Krupp (Duke University), John Messinger (Harvard University), Madeline Stewart (Boston University), Hannah Tierney (UCSF), Lou Xie (UT San Antonio), Joanie Addington-White (SFPC Program Director),  Brittany Abel (Chief Resident)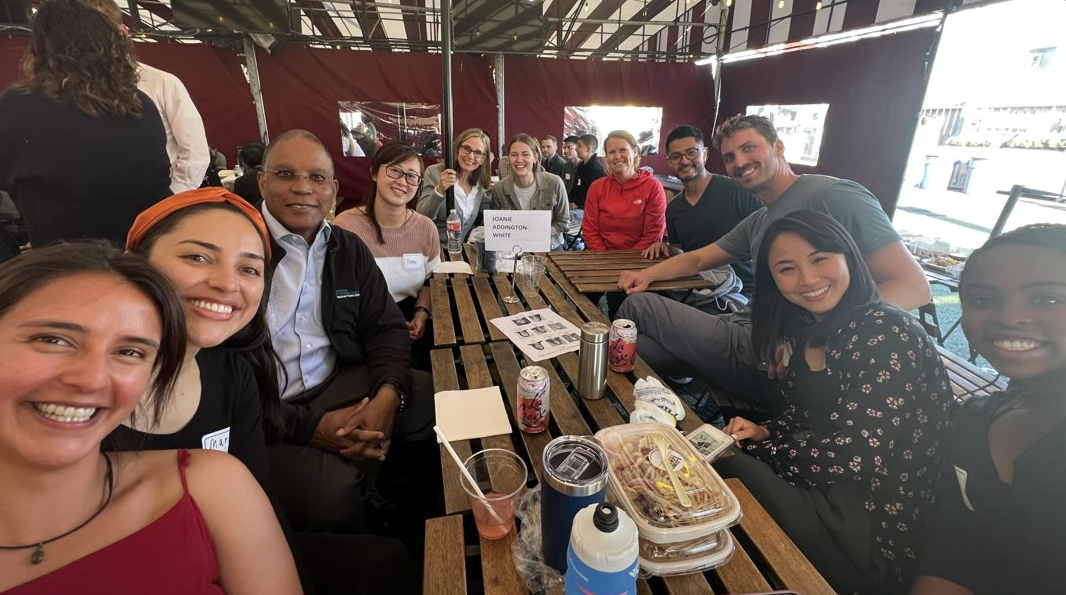 R2s
Tamara Sanchez Ortiz (Washington University in St. Louis), Marisol Solis (UC Davis), Neil Powe (Chief of Medicine, ZSFG & Vice-Chair of Medicine, UCSF) Fiona Ng (UCSF), Joanie Addington-White (Director),Taylor Bozich (University of Washington), Christine Soran (Assistant Director), Edgar Velazquez (UC Davis), Kyle Hunter (UCSF), Sarah Hsu (Brown University), Olivia Harden (University of South Carolina)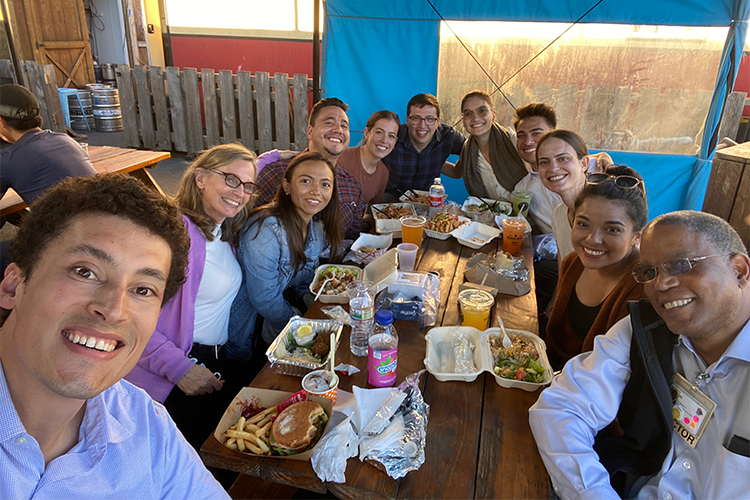 R3s
Andreas Mitchell (Chief Resident, 2021), Joanie Addington-White (SFPC Director), Stephanie Clavijo (UCLA), Emmanuel Aguilar-Posada (UCLA), Emily Muller (University of Washington), Mike Levy (University of Colorado), Ellena Popova (University of Pennsylvania), Ryan Pascua (UC Davis), Isabel Ostrer (UCSF), Gabriella Herrera (Harvard), Neil Powe (Chief of Medicine, ZSFG & Vice-Chair of Medicine, UCSF)
Get To Know Our Residents
Favorite Bay Area Activities:
Hiking in the Marin Headlands

(Andreas)

Mussel Rock is one of my favorite places to go to take in the beauty that is San Francisco

(Brittany)

Fabulous backpacking trips! Some of my favorite destinations include the John Muir Wilderness, Sequoia and Kings Canyon National Parks, the Trinity Alps, and the King Range Wilderness

(Johanna)

In the Summer, backpacking in the beautiful national and state parks nearby; in the winter, ski trips with friends to Tahoe

(Andrew)

Climbing Corona Heights Park or running along Crissy Field

(Sam)

Hiking!

(Ilana)

Running up the 16th St. tiled steps to the top of Grandview park

(Daniela)

A few days of backpacking capped off with a day in wine country

(Jessica)

Hiking in Point Reyes, followed by an al fresco oyster feast

(Raphaela)

A walk on Fort Funston. The scenery is amazing and there are dogs running all over the place. It's the perfect place for a dog lover who doesn't have a dog.

(Meredith)

Bringing our 3 year old lab pup to Fort Funston for hiking/beach time

(Sarah)
Favorite Eats:
Soup dumplings from Shanghai Dumpling King

(Andreas)

Mission Street Oyster and Taqueria Cancun right next door do an excellent job of satisfying both my frequent oyster and taco cravings

(Brittany)

Mandalay, which serves delicious Burmese food in the Inner Richmond, and Hinodeya, a great ramen bar in Japantown

(Johanna)

For a special occasion, really love Mister Jiu's

(Andrew)

Yifang Taiwan Fruit Tea-- arguably the best brown sugar boba in the city!

(Sam)

Tilak

(Ilana)

My COVID take out go-to has been New Eritrea (Daniela)

So many! Some recent faves... Nyum Bai (Cambodian) in Fruitvale, Nopa (Californian), RT Rotisserie

(Jessica)

Mr. Rintaro - delicious Japanese food. They have started making beautiful bento boxes during COVID.

(Raphaela)

Hook Fish Co eaten at sunset on Ocean Beach a few blocks away

(Meredith)

Mitchell's ice cream

(Sarah)
Fun Facts:
I speak Swedish! (Has yet to help in a clinical encounter)

(Andreas)

I wanted to be a veterinarian when I was a kid and so had some unusual pets. My childhood snake, Jake, is still alive at at least 16 years old!

(Brittany)

Fidel Castro once tapped me on the forehead and said, "This one looks Cuban." You'll have to join SFPC to get the full story!

(Johanna)

My English name used to be Bobby Kim, thanks to a fortune teller with poor taste in names

(Andrew)

I grew up on a street called Karl Marx in the post-Soviet republic of Kyrgyzstan

(Sam)

I am very good at packing, and travel most places with only a backpack. I moved from the East Coast to San Francisco with two suitcases.

(Meredith)

In my 1.5 years of living in SF, I've lived in 3 different neighborhoods- the Mission, Haight Ashbury and now Portrero Hill!

(Sarah)
Hobbies:
Running, hiking, backpacking, crosswords

(Andreas)

I love to sing, watch competitive cooking shows like Chopped, pet and ogle dogs, hike (just the amateur stuff), listen to podcasts and decorate

(Brittany)

Backpacking, hiking with my boyfriend and pup, painting, and printmaking. Not to brag, but I also make a mean granola

(Johanna)

Skiing, camping, backpacking, creative writing, and exploring contemplative practices across religious traditions

(Andrew)

Sorting people into Hogwarts houses

(Sam)

Knitting, drawing, hiking with my dog Hank

(Raphaela)

Reading, hiking, traveling, yoga

(Meredith)

Gardening, biking around SF via ebike, taking yoga classes from my favorite Chicago yoga studio (thanks covid?), watching old Survivor seasons

(Sarah)
Reason(s) they chose SFPC:
I wanted to train at a public hospital and loved the SFPC community

(Andreas)

Because of the palpable energy for health equity that brought exceptional yet humble people of diverse backgrounds and interests together. The relationship that SFGH has with the community it serves is built on trust, which was incredibly important to me. Also, when I looked around at the residents and attendings on my interview day, I thought, "I want to be just like them!"

(Brittany)

I can't think of any other internal medicine residency program that attracts such a talented, warm, and diverse group of trainees and faculty all dedicated to the same meaningful social mission. I also love having a small family within the larger UCSF internal medicine residency and being based in the Bay Area

(Johanna)

I wanted to train in a place that would value and encourage our mission in service/advocacy for our patients and communities

(Andrew)

SFPC has an incredible legacy of training physicians committed to a medical practice that is first and foremost rooted in social justice and health equity

(Sam)

I wanted to train in a primary care program that's committed to health justice and working with vulnerable and urban underserved patients. As a medical student, I loved rotating at ZSFG and was inspired by the DGIM faculty who were incredibly compassionate and engaged in working with medically and socially complex patients.

(Ilana)

For the opportunity to work with patients at [ZSFG] and learn from people in the IM program

(Daniela)

I wanted strong primary care and internal medicine training in a place dedicated to serving underserved communities. This is it! The faculty, residents, and patients are truly amazing here, and make SFPC the ideal place to become both a physician and advocate.

(Meredith)

San Francisco + a primary care program focused on underserved patient populations + the residents!

(Sarah)
What makes SFPC unique?
I think SFPC is unique for its combination of stalwart commitment to social justice and its stellar academic community. I also think the residency and faculty are uniquely delightful people who I absolutely love being friends with!

(Andreas)

It's a small family feel within the backing of a larger residency program; all of our co-residents and faculty are rooted in a similar moral valence; and the program is connected with so many people doing mission driven work!

(Andrew)

SFPC not only provides a tight-knit family of like-minded individuals, but it also makes you feel intimately connected to the city's safety net health system

(Sam)

My co-residents are amazing and it's wonderful to have a smaller family within the broader residency family. It's also such a privilege to be surrounded by such a dedicated and passionate community—from clinic staff to residents to faculty.

(Ilana)

It is a super close knit family full of kind, funny, and inspiring people

(Jessica)

World-class clinical care and research with faculty and residents who care deeply about health equity and justice

(Raphaela)

The close knit community and long lineage of mission-driven, passionate, fun people. I love having my SFPC family within our larger internal medicine community.

(Meredith)

The opportunity to learn to manage a medically complex, diverse, underserved patient panel in an academic setting with outstanding GIM faculty.

(Sarah)
Favorite thing(s) about the Richard Fine People's Clinic:
Definitely the patients

(Andreas)

The staff at RFPC are so incredibly kind and excited to work together in taking the best care of patients

(Brittany)

Back hallway parties. Free Muscle Rub to give away to patients. The phenomenal MEAs. Nurses who know and care for our patients above and beyond. Our patients who teach us so much about the fullness of life.

(Andrew)

The RFPC staff hands down--they never fail to make my day. I also love the incredible diversity of our patients.

(Sam)

The patients and staff (also best cafeteria in the three hospital system, hands-down).

(Daniela)

The dedicated and mission-driven staff; getting to recruit patients to my panel from inpatient admissions and getting to see them continue their journeys after discharge

(Jessica)

I love the diverse, complex patients whom I get to serve

(Raphaela)

My patients! I've loved getting to know each of them over the past few years. They are amazing individuals and have taught me so much.

(Meredith)

Every day is different!

(Sarah)
Professional Interests:
I want to be a clinician-organizer, spending part of my time seeing patients (ideally in a street medicine/urban primary care setting) and part of my time engaged in social justice organizing

(Andreas)

Comprehensive primary care including office-based procedures, immigrant health, prison medicine, obesity and nutrition

(Brittany)

Palliative and hospice care, health equity, and patient-physician communication

(Johanna)

    

Health diplomacy, palliative care for underserved populations, and the nexus between spirituality and healing

(Andrew)

Incarceration health, addiction medicine, women's health

(Sam)

Primary care, transgender health, correctional health

(Ilana)

Representation in medicine, equity in assessment, care for Latinx patients

(Daniela)

Health care delivery innovation and systems redesign for the safety net

(Jessica)

Addiction medicine, street medicine, health care for people experiencing homelessness

(Meredith)

Liver disease, medical education, telemedicine

(Sarah)
Other things applicants should know:
SFPC's leadership is phenomenal. Joanie, Christy, Eva, and the many amazing advisors and faculty will go far to advocate for the residency experience that you need to grow into a consummate physician and advocate.

(Andrew)

Being a part of SFPC has allowed me to truly fall in love with primary care - despite being exposed to the difficulties and challenges of being a primary care doctor. I am so grateful to our program leadership and my co-residents that never cease to inspire me.

(Sam)

Please reach out if you have questions about our program! We are always happy to talk and love meeting prospective residents :)

(Meredith)

Residency is hard. My SFPC co-residents feel like family, and I could not do residency without them.

(Sarah)